You probably know you need to keep your passenger car's windshield in good condition, but what about heavy equipment like forklifts? Baytown windshield repair services can also address safety glass on forklifts to help keep your machinery safe. In this article, we'll explore some things we think you should know about repairing forklift windshields. 
Do You Need Baytown Windshield Repair for Your Forklifts?
Forklifts are an important part of many facilities and activities. Industrial facilities like warehouses and manufacturing factories rely on safe, dependable forklifts. These machines help lift and transport heavy materials. Many forklifts come with similar safety features to your everyday car, like windshields, headlights, and even windshield wipers.
Just like other vehicles, you need to repair damages to your forklift's windshield. Damaged windshields can put your employees at risk and even open your organization up to legal issues. We'll discuss these potential consequences later in the article, but it's important to understand the importance of keeping forklift windshields in good condition with Baytown windshield repair and replacement.
Signs You Need Baytown Windshield Repair or Replacement for Forklifts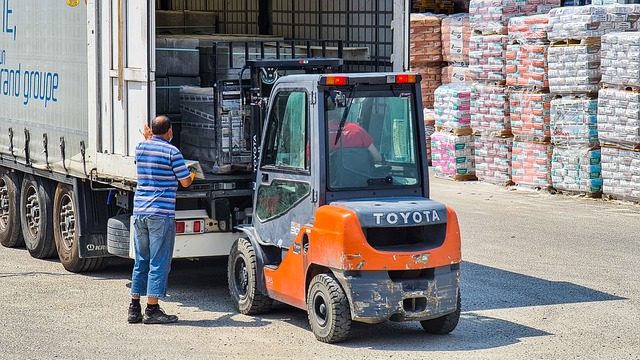 Forklifts take a beating. Think about it – many forklifts are used heavily every day. Also, they must withstand heavy loads, industrial environments, as well as everyday elements like weather. There are many different ways forklift auto glass might end up damaged and needing repairs. 
Keep in mind that your forklift's windshield may or may not be made of glass. Generally speaking, if the cab of your forklift is primarily made of polycarbonate, there's a good chance the windshield is actually plexiglass. Plexiglass is a type of hard plastic. If this is the case, then typically the only way to take care of windshield damage is to replace the plexiglass.
However, forklifts with steel cabs often use safety glass, either tempered or laminated. Laminated glass is repairable in many cases by filling the damage with special Baytown windshield repair resins. Our heavy equipment glass technicians can help you determine the right course of action for your forklift. 
Here are some signs that you may need repairs for your forklift's windshield:
Get Baytown Windshield Repair for Glass Chips
Chips in the glass often look like small bulls-eyes or stars. These are usually the result of impact from small stones while driving the forklift. While this type of damage looks small, it's essential to get Baytown auto glass repair as soon as possible if you notice chips in the forklift glass. Chips in windshields can quickly grow into larger cracks and still can negatively affect the safety and functionality of the forklift. 
Get Baytown Windshield Repair for Cracks in the Glass
Cracks are longer, linear forms of damage you might notice on forklift windshields. These damages are typically the result of severe impact, heat-related stress on the glass, or even neglected windshield chips that have been allowed to grow.
If the crack is longer than the size of about a dollar bill, then often the windshield is in too poor condition to repair and will need replacement. Therefore, it's more cost-effective to get Baytown auto glass repair in the early stages of damage when possible to prevent more expensive replacements. 
Get Baytown Auto Glass Repair for Scratches
In some cases, you might notice that the forklift windshield looks scratched. Scratches can be the result of long-term wear and tear, particularly if dust and debris are left on the surface for long periods of time. Dust can act like sandpaper and cause superficial scratches on the surface of the glass.
In other cases, scratches may be due to accidents in the workplace. For instance, unintentionally bumping items into the glass or dropping tools onto the forklift windshield. Whatever the case, you need to address any scratches in the glass as they can make it hard for operators to see. In some cases, we may be able to buff out superficial scratches. Other times, it may be time for a new forklift windshield.
Reasons to Get Forklift Windshield Repair ASAP
It's your duty to keep your forklift in good condition for your employees. Forklifts can pose several safety hazards, particularly when they are damaged or not properly maintained. If you notice signs of damage on the glass in your forklift, it's critical to schedule repairs straight away. Here's why:
Baytown Windshield Repair Improves Safety for Forklifts
First and foremost, windshields are necessary safety features on forklifts. The windshield glass helps protect your employees from many different hazards, including flying debris. It also helps protect employees from environmental conditions that can make it hard to drive.
For instance, with no windshield, it's easy for things like dust and rain to blow into the eye and distract from driving this piece of heavy machinery. Therefore, it's in everyone's best interest to get Baytown windshield repair for damaged forklift glass as soon as you can. 
Repairing the Glass on Your Forklift Increases Visibility
Damages in the forklift windshield glass can also reduce visibility. Considering some of the most common and dangerous forklift accidents happen due to unseen obstacles, it's essential to make sure your employees can see everything clearly through the windshield. Damage in the glass can make it difficult to see while operating the forklift and can even catch the light and reflect it in a way that is temporarily blinding to the operator. So, ensure you address any damage as soon as possible. 
Damaged Forklift Windshields Can Cause OSHA Violations
Another reason to repair forklift windshields and glass as soon as possible is to avoid issues with the law. OSHA has strict codes and standards on maintaining and repairing heavy equipment like forklifts. Using forklifts with damaged windshields can result in fines or even lead to a worksite shutdown until you can get the glass repaired. Instead of risking it, just call our experts for quick, quality repair solutions.
Tips for Maintaining Forklift Windshields
Whether you have just one forklift for your whole facility or manage an entire fleet, there are several things you can do to help maintain forklift windshields. The first is to make sure they are clean at all times. A good rule of thumb is to give them a thorough cleaning at least once a week and as needed for any smudges or grime in between the weekly cleanings. This helps reduce the risk of wear and tear on the glass and also improves overall visibility. 
Another thing you can do is institute a pre-shift check for every forklift. During this time, have operators or managers perform visual checks on key components of the forklift, including the windshield. If anything is amiss, then schedule repairs ASAP. Also, make sure that your employees know that they should report any defects and how to do so in case they notice issues with the glass. 
Heavy Equipment Glass Solutions at Joey's Glass
If you have heavy equipment, you need to keep the glass in peak condition for safety and compliance. Our team at Joey's Glass offers experienced repair and replacement services for a wide range of heavy equipment, including forklifts. We are Baytown's oldest full-service glass company offering quality, affordable solutions for everything from auto glass repairs to Baytown commercial glass installation. Contact us now for a free quote.