When you think of Baytown shower glass installation,  you might think of walk-in showers. However, it's getting more and more common to install glass doors on bathtubs. We'll discuss why and some common options for bathtub doors. 
How does Baytown Shower Glass Installation for Bathtubs Work? 
If you want a glass enclosure for your bathtub, typically you need to start with the right kind of bathtub. In most cases, you want a bathtub with sides that are straight up and down. This is because most shower glass is flat. While curved glass is an option, it's much less common to see and often requires a lot of customization. In addition, you want to make sure there's enough support for Baytown shower glass installation from the bathtub. In most cases, the glass will be mounted to hardware attached to the walls and ledges of the bathtub. Most people install glass enclosures on alcove bathtubs that also feature a shower. 
When installing glass shower doors in your bathtub, you need an experienced Baytown glass company for installation. Glass specialists will need to properly measure the space and help you design a stylish and functional enclosure. Then, the glass company creates the glass and installs the new enclosure. 
Why Install Glass Bathtub Enclosures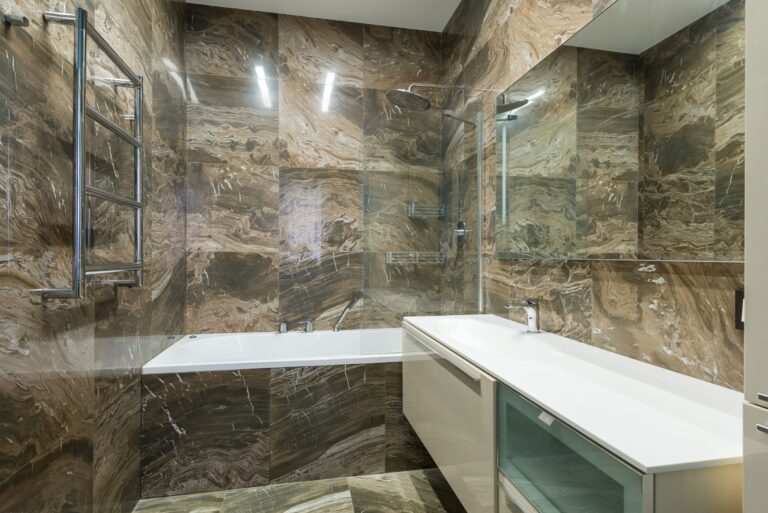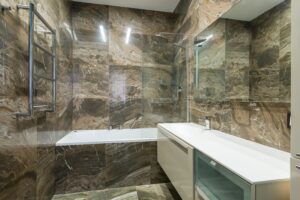 There are many reasons homeowners are installing glass bathtub doors in their homes. These can easily help brighten up your space and is a pretty easy upgrade you can do for your bathroom. We'll go over some of the most cited reasons to install glass bathtub enclosures and doors.
Baytown Shower Glass Installation Can Improve the Aesthetics of Your Bathroom
One of the main reasons people install bathtub glass enclosures is that they look great. Glass doors are a gorgeous addition to practically any bathroom. Glass easily matches any décor style and looks incredibly sleek and luxurious. They never go out of style and give a spa-like look to your bathroom, especially compared to that old shower curtain.
Glass Bathtub Doors Make Your Bathroom Look Bigger
Another great reason to choose glass enclosures for your bathtub is that they can help your bathroom look bigger. Shower curtains close off your space, while glass helps make your bathroom look large, open, and airy. Many people notice after Baytown shower glass installation that their bathroom looks significantly bigger. Bigger-looking bathrooms are incredibly attractive, and can also help improve the value of your home. 
Baytown Shower Glass Installation Allows More Natural Light In
In a similar vein, glass bathtub enclosures can help let more natural light in your bathroom. Light can stream through even textured or frosted glass to make your bathroom look lighter and can also help improve visibility when you're showering and bathing. Natural light is ideal for showing off your décor and making your space look more inviting. By contrast, shower curtains typically block light and make your bathroom look darker.
Glass Helps Keep Water Inside the Tub
When taking a shower or bath, water can splash outside of the tub and cause water damage. Keeping every drop of water possible inside the tub is important. Shower curtains are flimsy and aren't great at containing water splashes. Glass doors and panels, however, are really good at keeping water inside the bathtub when you shower or bathe. Therefore, it's an investment in keeping the rest of your bathroom in good condition as well.
Glass Doors Are Easier to Clean than Shower Curtains
Shower curtains are notoriously difficult to clean. In many cases, people just throw them away and replace them when they notice it's time to clean them. Shower curtains can be prone to slimy soap scum buildup, mildew, and even mold growth. Cleaning these off of a flimsy piece of fabric can be nearly impossible, creating a lot of hassle and potentially unsanitary conditions. 
Instead, glass is extremely easy to clean. All you need to do is use a squeegee after each use to remove the extra water and wipe down the glass regularly with a cleaning solution as you clean the rest of your bathroom. Since glass is smooth it's simple to wipe away any water spots, minerals, or soap scum. 
Types of Bathtub Doors for Baytown Shower Glass Installation
Now you know some of the benefits of installing glass doors for your bathtub, let's talk a little about different options. There are three main types of doors you might install for a bathtub enclosure. Each has its own pros and cons, and one might be better for your bathroom than another. Our glass technicians can help offer recommendations as you consider your bathtub enclosure design, but there are a few general things to keep in mind. 
Sliding or Bypass Doors
Sliding bathtub doors, also known as bypass doors, include two glass panels that slide from side to side. These are some of the most common to use as bathtub doors. They are perfect for saving space because the two shower glass panels sit next to each other and don't need any extra room outside of the tub to open like a swinging door. In addition, most sliding doors use handles that can double as a towel rack, saving even more space in your bathroom. 
One of the main disadvantages of sliding bathtub doors is that the opening is limited to about half of the width of the bathtub. The average alcove bathtub is about 60 inches wide. With sliding tub doors, that means the opening is about 30 inches. So, some people feel a little cramped getting in and out of bathtubs with sliding doors. 
Hinged Doors
Another option is to install a hinged door to get in and out of your bathtub. This can help solve the width problems associated with sliding doors. Generally people will place a fixed panel on one side of the tub and then install a door that swings open on the other side to allow them to get in and out of the tub. 
However, it's also important to note that if the bathtub door is hinged, you need to have plenty of clearance around the door for it to open fully. Unfortunately, many people don't check this before installing hinged shower doors and then find that the door bangs into a sink, toilet, or another bathroom fixture. 
Fixed Glass Panels
Finally, some people choose to skip the door and just install fixed glass panels for their tub. In these cases, typically the glass panel will close off most of the tub closest to the faucet to help catch water splashes and leave an opening for you to enter and exit the bathtub. These typically feature minimal hardware and are really inconspicuous. 
However, one of the drawbacks is that stationary panels may not catch all the splashes from your shower or bath. Because they don't completely enclose the bathtub like the other types of enclosures do, there's a gap where water can still splash out. Keep this in mind as you explore your options.
Joey's Glass – Trusted Baytown Glass Company Since 1973
Our experts at Joey's Glass are here to help you with all your glass needs. Whether you're looking to install glass shower and bath enclosures in your home, need Baytown residential glass repair, or are looking for convenient repairs for your auto glass, we have you covered. We are Baytown's oldest full-service glass company with nearly 50 years of serving the Greater Baytown area. Get in touch today for a free quote for glass services!