Most of us have been there: you come out from the store and notice someone has damaged your side mirror. While this is a common issue, it's important to get Baytown auto glass repair for broken side mirrors as soon as possible. In this article, we'll discuss how side mirror repair works and why it's important. We'll also go over some tips for how to prevent side mirror damages and why you should work with auto glass professionals for damaged side mirrors.
How Does Baytown Auto Glass Repair Work for Side Mirrors?
So, if you find yourself with a broken side mirror, you might wonder how our Baytown glass company can help. Repairing damaged side mirrors is typically a fairly easy and inexpensive process. You simply bring your car in for one of our specialists to look at and evaluate the damage. Then we can help you find the right options for repair. 
If just the glass mirror is damaged, then we may recommend just replacing that part. In many cases, rocks from the road or small bumps by another car's door can lead to chips or cracks in your side mirror. You may also be dealing with a shattered mirror on your car. As long as the housing is still in good condition and none of the internal components are damaged, there's a good chance we can save you money by just replacing the side mirror glass. For shattered or dangling mirrors, try to secure them in place with some masking tape to help stop more damage during your drive to our shop for repairs. 
Of course, in some cases the damage to your side mirrors might be more severe. Sometimes you may have damage to the housing or internal parts in addition to the mirror. In these cases, it's generally best to replace the entire assembly to ensure you have a functional side mirror in good condition. Our team can help you determine which type of repairs you need to get you back on the road as soon as possible. 
Why Get My Broken Side Mirrors Replaced?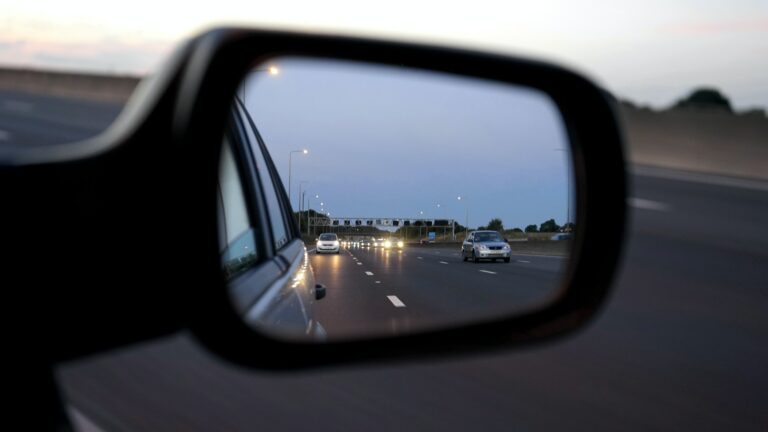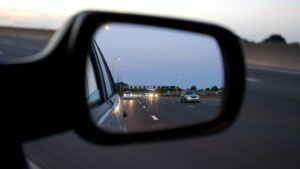 Why is it important to get Baytown auto glass repair for broken side mirrors as soon as possible? Side mirrors are actually critically important safety devices for your car. You might take your side mirrors for granted, but you likely use them more than you realize. Side mirrors in your car help you see in blind spots the rearview mirror doesn't cover. They also help when you're parking and changing lanes and generally provide added visibility while you're driving. Even small damages can make this more difficult and may obstruct your view. So, for safe driving, our experts recommend getting side mirror damage repaired as soon as possible. 
Now, you might be wondering if it's illegal to drive with a damaged side mirror. Texas does have specific laws in place about rear visibility. The law does require your car to have left and right side mirrors that allow you to see at least 200 feet behind your car. So, if the glass or the entire side mirror housing is missing, you're likely breaking the law. Even with a cracked side mirror, this may make it difficult to see 200 feet behind you, which may also mean you're violating the law. Police officers may pull you over if you have missing or damaged side mirrors and they may be able to give you a ticket. Instead of risking it, we recommend getting your side mirrors repaired as soon as possible.
Tips from your Baytown Glass Company for Preventing Side Mirror Damage
Sometimes side mirror damage is just unavoidable, but we do have some tips that might help prevent it in future. First, it's important to go over some common causes of side mirror cracks and other damages. Understanding the causes may help you avoid side mirror damage. 
As you may have guessed from our introduction, other cars are often to blame for damaged side mirrors. For instance, others may smack your mirrors when opening car doors. Sometimes in cramped parking areas, other cars may hit your side mirrors while pulling in and out of spaces. 
In addition, side mirrors are a common target for vandalism. Unfortunately, they're pretty easy to smash with a baseball bat or even take them out with a strong kick. We know Carrie Underwood didn't mention taking her Louisville slugger to the side mirrors in her famous and catchy song, but it's definitely more common than you might think. 
Washing your car can also be a source of side mirror damage. In automatic car washes, rotating brushes have been known to damage or even totally remove side mirrors from cars. Even if you're doing a DIY wash, using the wrong products or tools can scrape or weaken your mirrors and make them more prone to damage. 
Knowing these potential causes of side mirror damage, here are some tips to help you avoid it:
Avoid parking too close to other cars

Be careful when driving closely to other cars

Try to park in safe, well-lit areas

Push your side mirrors in if possible before going through car washes

Always use soft, non-abrasive tools and products on side mirrors
Why Get Professional Baytown Auto Glass Repair for Side Mirrors?
If you have a damaged side mirror, you might wonder if you can DIY repairs. While this is an option, there are a few drawbacks. It's often more beneficial to work with Baytown auto glass repair specialists for side mirror repairs. 
In many cases, replacing a broken side mirror requires some specialized tools and knowledge. For instance, in some cars, you might even need to remove the entire door panel to remove the side mirror. Even if you just need the glass replaced, it generally involves detaching wires or even removing old adhesive before attaching the new glass. Our specialists have years of experience with many different makes and models to make quick, safe, and simple work of this, but it can often be quite the hassle for a rookie or DIY-er. 
In addition, we source parts and glass from trusted vendors, which means you have peace of mind you receive high quality replacement glass. In many cases, you may not be able to buy the same quality materials or replacements from your local auto parts store. This can mean the glass is thinner and more prone to breakage. Instead, it's often a better value to have our team repair the damage with quality guaranteed replacement glass.
Expert Baytown Auto Glass Repair at Joey's Glass – Baytown's Oldest Full-Service Glass Shop
When you need expert glass services, choose our team at Joey's glass. We've been providing top quality service to Baytown since 1973 and are confident we can provide exactly what you need for glass projects in your home, business, or vehicle. From Baytown windshield repair to window replacement, we have solutions for your needs and budget. Get in touch today for a free quote for all your glass needs.