Cleaning the glass in your home, car, and business is about more than just achieving a streak-free appearance, it's important for protecting your glass and extending its life. That means less money spent in repairs and replacements, which is always a good thing! Your Baytown glass company recommends learning which cleaning products and methods to use for all the types of glass you have. Different types of glass may have different cleaning needs, so you may need to brush up on your cleaning knowledge. 
Baytown Glass Company Tips for Clean Auto Glass
Auto glass can be a little more tricky to clean than many other types of glass. Using the wrong types of cleaning solutions or tools can even lead to needing Baytown windshield repair.
The problem with using most glass cleaners on your car's windows is that many commercial glass cleaners contain ammonia. Ammonia can deteriorate auto glass tint, plastic, vinyl, and other materials in your vehicle. Instead, it's important to choose a glass cleaner specifically for auto glass for the best results.
Also, make sure never to use rough materials like brushes or scouring pads on your car windows or windshield. Instead, use soft microfiber cloths for a smooth, streak-free finish. Another great tip is to try cleaning your windshield and car windows in the shade. The sun can make the glass cleaner evaporate more quickly, which may leave behind a residue. 
Cleaning your car windows inside and out frequently can help improve visibility when you're driving. Also, dirt and dust can act like sandpaper, leaving behind scratches that you'll need your Baytown glass company to repair. Instead, make sure you clean your windows at least every few weeks or more as needed. Don't forget to wipe down your windshield wiper blades while you're at it!
How to Clean Residential Windows from Your Baytown Glass Company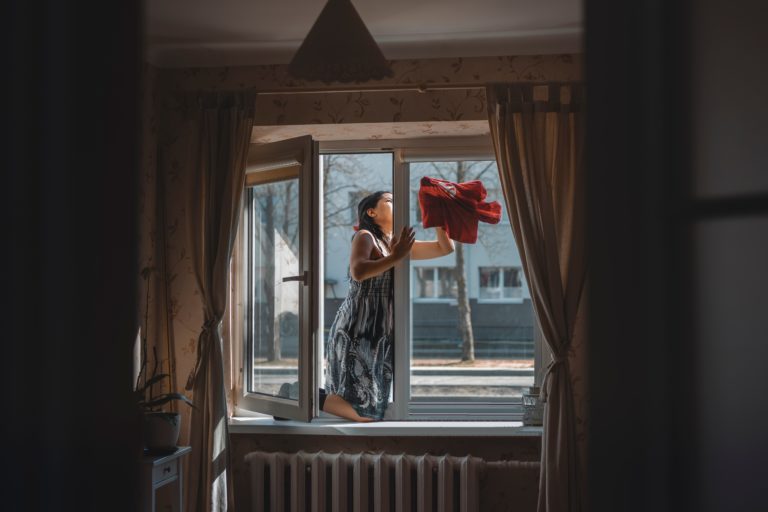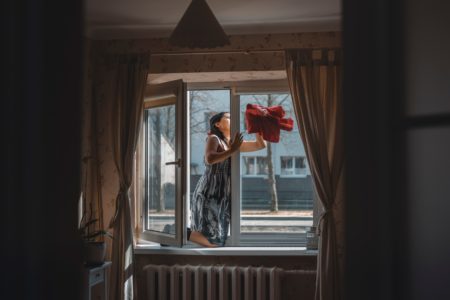 The windows in your home help let in natural light, give you a great view of the outdoors, and also help create curb appeal for your house. However, without regular cleaning and the right cleaning methods, you could end up needing Baytown window repair or replacement.
You can use commercial glass cleaners or a solution of one part vinegar to ten parts warm distilled water to clean your windows. It's important to use distilled water because it doesn't contain minerals that can leave behind streaks and hard water spots. 
In most cases, you should choose a lint-free cloth like a microfiber cloth or good quality paper towels to clean the windows in your home. However, for large picture windows, you may want to grab a squeegee. 
Choose a cloudy day to help reduce the risk of the cleaning solution evaporating and leaving behind a film on the glass.  We know achieving a streak-free finish on your windows is important.
Have you ever cleaned the window, noticed a streak, and weren't sure whether the streak was inside or outside? Your Baytown glass company has a tip to help! Try wiping your windows all horizontally on the inside and all vertically on the outside. That way, if you do notice streaks, you know which side you need to go over again. 
Cleaning Shower Glass in Your Home
Glass shower enclosures and doors are a gorgeous addition to any home. However, if your enclosure is covered in soap scum, hard water spots, and grime, it may not look very pretty. Your Baytown glass company recommends doing a light cleaning after each use. This usually includes using a squeegee or a microfiber cloth to dry off the walls of your glass shower enclosure. However, you can also spray a quick daily shower cleaner as well to help keep your shower clean. 
For your glass shower, use a vinegar and distilled water solution at least once a week to get rid of mineral buildup and soap scum. In addition, you may need to do a deep clean once a month or more to help keep hardware and other shower components clean and sparkling. Just remember to use soft, non-abrasive materials on both shower glass and shower hardware to prevent scratching. 
How Your Baytown Glass Company Recommends Cleaning Mirrors
Cleaning mirrors in your home comes with many of the same frustrations as cleaning other glass. Getting a streak-free shine on your mirrors can be hard sometimes! The wrong cleaning solutions and techniques can even damage your mirror. When moisture gets to the backing of the mirror, it can look hazy and develop small black spots. So, make sure you avoid this with good mirror cleaning practices.
In the bathroom, your mirrors are prone to gobs of toothpaste, fingerprints, and other grime. Trying to use a normal glass cleaner to remove these will only lead to streaks. Use a bit of rubbing alcohol to get rid of these gummy, oily leftovers before cleaning with a glass cleaner. You can make your own non-toxic mirror cleaner with one part vinegar and one part distilled water. 
The main thing to remember when cleaning mirrors is to stop moisture before it gets to the backing. Therefore, your Baytown glass company recommends spraying cleaners onto the cloth instead of directly on the mirror.
Streak-Free Cleaning for Glass Table Tops
Glass table tops are another important part of your home. However, if you have a glass kitchen table, you may be concerned about using harsh chemicals on the table you and your family eat off every day. To clean a glass table, start by dusting off any dirt or crumbs with a dry microfiber cloth.  Then, you can use either distilled water alone or a distilled water and vinegar solution to clean the table. This solution is a natural and non-toxic glass cleaner that can help kill bacteria. 
Let's not forget that your glass table may have framing around it, though. This framing may not react well with certain cleaners. For example, if you have a wood frame around the glass table top, keep in mind that moisture can lead to warping. Vinegar and water is generally a good choice for many materials, but it can harm some types of stone. So, check with the manufacturer about what kind of cleaners you can use on the table frame.
Getting Storefront Glass Clean and Beautiful for Displays and More
When it comes to storefront glass, you likely have a cleaning company that does window washing for your business. However, you may want to save money by cleaning your storefront yourself, or maybe you want to do a little light cleaning between visits from the cleaning company.
For your storefront, your Baytown glass company recommends using a commercial glass cleaner or a vinegar solution to clean the windows. Also, because storefront windows are often much larger than residential windows, you likely want to invest in a squeegee. Otherwise, you can follow the same procedures as you would for windows in your home. 
At Joey's Glass, we are Baytown's oldest full-service glass company. We've been proudly serving the Baytown area since 1973 and offering affordable, practical glass solutions for all your needs. Whether you need glass for your car, home, or business, our team has you covered. Call us today at (281) 427-4705 to learn more and request a free quote for your upcoming glass project!