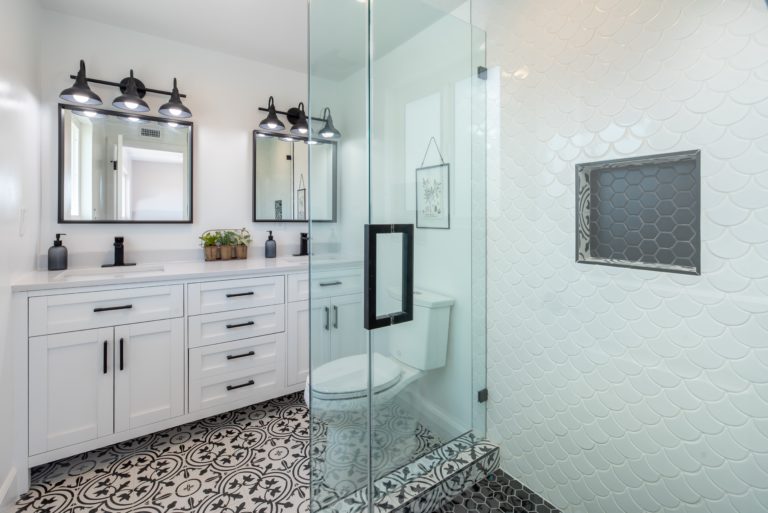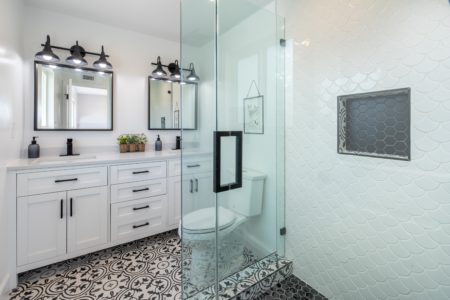 During your renovation, Baytown shower glass installation may be one of the last things you do. However, that doesn't mean you shouldn't plan your shower enclosure ahead of time. Waiting until the last moment to decide on your Baytown shower glass installation options may limit your design choices and could even interfere with your remodel project. Therefore, take a look at some of these Baytown shower glass installation elements to determine what is best for your home. In addition, you'll need to know the right steps for measuring for a new shower enclosure. This will help your project go smoothly.
Framed or Frameless Baytown Shower Glass Installation?
One of the first things you'll likely need to decide is whether you want framed or frameless glass for your shower. Frameless Baytown shower glass installation is popular because it is great for almost any bathroom, small or large. It also blends in seamlessly with many different types of decorative styles and helps your bathroom look bigger. Framed shower glass from your Baytown glass company might be the right option for you if you want to add contrast or provide a grid-like appearance.
Types of Shower Glass Enclosures
You'll also need to decide what type of enclosure you want to install in your bathroom. This affects not only your Baytown shower glass installation services, but even the rest of your remodel project. There are many different options to choose from. Here are some interesting ideas for your shower enclosure:
Solid Enclosure with Glass Shower Door
If you want more privacy, but still like the idea of a glass door, this option might be right for you. Solid enclosures made of tile or brick offer sturdy, private surroundings. Adding a glass shower door to the mix helps show off the details inside your shower, as well as keep your bathroom from looking too small with a solid enclosure.
Partial Enclosure Shower Glass Installation
Another option you might consider is a partial glass enclosure from your Baytown glass company. This is where you create a walk-in shower without a door, but use shower glass to enclose the shower and prevent splashes and leaks. This is great for building spacious showers, but partial enclosures might not prevent water spills in smaller shower spaces.
Glass Shower Enclosure
Many people opt for enclosures made of all glass. Depending on where your shower is, you may need two or three glass panels for this type of enclosure. For example, if your shower plumbing is located in the corner of your bathroom with two walls, then you'll need two panels. If your plumbing is against a wall that is more open, you may need three panels to create a shower enclosure.
Curved Shower Doors
Curved shower doors contrast against the rectangular floor plan that most bathrooms use. This means they instantly turn your shower into the focal point of your bathroom. Oftentimes, people think that you can only use curved shower doors for corner shower areas. However, your glass technicians can incorporate curved doors into almost any shower design.
How to Measure for your Baytown Shower Glass Installation
In addition, you'll need to take some measurements to give to your Baytown shower glass installation experts. These measurements are necessary for fabricating the panels for your glass shower enclosure. To measure for your shower enclosure, you will need a measuring tape, a level, as well as a pen and paper to write measurements down.
Measure Finished Walls for Your Baytown Shower Glass Installation
First, it's important to only measure finished walls. This means you should already have the walls how you want them to look at the end of the project. Tile, fiberglass, and other shower wall coverings often add extra width to the walls where your shower will be. Therefore, for an accurate shower glass measurement, you will need to finish the walls before you can measure.
Plumb or Out-of-Plumb
Also, you should check to see if your walls are level, also known as plumb. In some cases, your shower walls or floor may not be completely straight. If this is the case, then you may need specialized shower glass that allows for out-of-plumb adjustment. Otherwise, your enclosure could end up with gaps in the areas that aren't straight. If your walls are out of plumb, be sure to take note of which ones.
Take Multiple Measurements
Additionally, because measurements must be so precise, you should measure in three different places to help ensure accuracy and also give more information to your Baytown glass company if your walls are out-of-plumb. Be sure you measure at the top, bottom, and middle of the openings for your shower where you need glass. For plumb walls, these measurements should be the same. For out-of-plumb walls, this helps your glass fabricators understand the angle and how much adjustment your glass may need to fit properly. Unless you have a specific custom height you would like, simply measure from the bottom of the shower to the top of the tile or other wall covering to get a measurement for the maximum height. Then, your shower glass experts can determine the recommended height.
Common Shower Enclosure Sizes
Shower enclosures can be custom-made to fit any bathroom configuration. However, there are some typical sizes that you might consider as you plan for Baytown shower glass installation. Most people opt for 36" x 36" shower enclosures or larger for comfort. However, they can be as small as 32" x 32". Also, 48" x 36" and 60"x 36" are also common sizes for shower enclosures. Once you've determined the size, style, and type of shower enclosure you want, then your glass company can get to work manufacturing the panels needed for your bathroom.
At Joey's Glass, we offer a wide range of glass options for your home, business, and car. Whether you need custom-made shower doors or expert Baytown windshield repair, our experienced team has solutions to fit your needs, aesthetic, and budget. As Baytown's oldest full-service glass company, we're the best option for your glass projects. Call us today at (281) 427-4705 to talk to one of our professionals and request a quote. We are here to serve you!